Romantic Marriage Proposals
Romantic Marriage Proposal Ideas
I'm an incurable romantic, (and I don't want to be cured) so I wrote this page to help all of you who are looking for ideas for a Romantic marriage proposal.
You've found the one, and you've decided to "take the plunge" by "popping the question" of your life and you want it to be romantic…but suddenly your brain has stopped working and you are stumped for ideas on how to ask the object of your heart to spend the rest of her life on earth with you. I am using her because usually it is a man asking a woman. If this is not the case, please simply change all the pronouns to fit your situation.
Nothing seems good enough for the love of your life..but you do want this moment to be memorable. Well I have searched the internet to find solutions for you. With all the resources available, there is bound to be the perfect creative idea for the perfect romantic marriage proposal for you to ask your beloved to marry you.
Best wishes to you always!
If You Just Want Beautiful Engagement Rings, Click Here (affiliate link)
Art: LoveHeartVectors by kientranqn
Used with Permission
You are what I never knew
I always wanted.
Hints for Romantic Proposals
When you think about it, there are very few questions that have the importance and the impact of marriage proposals. So even if you have nerves of steel, the thought of proposing to the woman you love may bring on some jitters. But don't worry. The secret to a successful proposal is very simple: Know what will please her and prepare yourself for the moment.
The best proposal depends on knowing what makes HER happy. The most important thing to remember when proposing marriage: Know what will appeal to her. (This is good practice for marriage.)
Here are some hints to help you:
1: Think about the type of woman she is.
If she's a hopeless romantic, your proposal should take this into account.
If she likes bold statements or has a particular passion in life, your proposal could be more creative or extravagant, but if she prefers intimacy, then a private proposal will be in order.
But if she adores the spotlight, then a more public proposal may truly win her heart. And if she's traditional, your proposal should be more traditional too. Think about your relationship and something that is special to just the two of you.
2: Think about setting the scene.
It could be just about anywhere-a restaurant, an amusement park, a beach, an art gallery or even a movie theater-as long as it has meaning for both of you. It could be a place you've both always wanted to be-from Barcelona to a hot air balloon.
If there's a venue that holds wonderful memories, you could plan your marriage proposal there. Rent your favorite movie, watch it at home, and propose during a pause. Arrange for a magician to make her engagement ring materialize from nowhere. Or fly her to Venice and propose on a gondola ride. (Or the Gondola at the Venetian Hotel in Vegas…)
3: Focus on the moment and on her.
Whatever stage you set, the most important thing is what you say. Express your proposal with love and sincerity, and let her know how much she means to you. The only real requirement is that it must come from your heart. The focus should be on her, and the special moment you'll be sharing.
If you can't afford a lavish backdrop, realize that it doesn't matter. What she cares about is the way you express your love and your desire to become lifelong partners. Know what you plan to say well in advance, and make a statement that captures all that's special about her.
If you just don't think you can remember to speak the way you would like to, you could give her a poem, especially if she is a tradionalist, or even a romantic note. However you decide to ask, make it special.
4: Prepare for the unexpected.
If you're planning to pop the question in a hot air balloon but thunderstorms make the trip impossible, you'll have to reschedule for another day-or come up with a back-up plan. Ditto if you've invited her for a romantic weekend at a country inn, and she comes down with the flu. Very few things in life ever happen precisely as we plan them, and this is no exception.
Take the situation in stride, create a contingency plan and consider this a dress rehearsal for your marriage-which will surely have a surprise or two as well!
5: Know that YOU CAN NEVER BE TOO ROMANTIC.
A recent survey reported that 80 percent of women who were proposed to said their proposal was "less romantic" than they had hoped for. So, regardless of how or where you propose, try to imagine what she would want and gear your proposal towards the type of woman she is.
It doesn't matter if you're in an elegant restaurant, a park or a sports event. The way you express yourself is key. Tell her not only that you love her
but why you love her, why she's special and the only one for you.
May my heart be your shelter,
and my arms be your home.
~Marianne Williamson
Romantic Marriage Proposals
More Proposal Ideas from the Web
Traditional Wedding Proposal Ideas
Some romantic ideas for the traditionalist couple…
Impressive Wedding Proposal Ideas
Some eye popping ideas to propose
Romantic Proposals
For the romantic lady, these ideas will ensure a "yes"
Intimate Moments for Proposing
Just the two of you and a quiet moment to propose
My Engagement Ring Store
If You are Shopping for an Engagement Ring
Sometimes it can be overwhelming to go to a jewelry store. In my Engagement Ring Store, all the rings are categorized to make it easy to shop. No salesman, no pressure, take your time to find the perfect ring for your beloved. Rings for a Romantic Proposal! Just Click here.
The minute I heard
my first love story,
I started looking for you,
not knowing
how blind that was.
Lovers don't finally
meet somewhere.
They're in each other
all along.
~Rumi
Born to Give My Love to You
Romantic Love Song
This was first recorded by Kennedy Rose who also wrote the lyrics and music, but I could not find a video of them performing it. Martina McBride does a fantastic job too, but I still love the original recording better. No matter, this is a wonderful song expressing love that was meant to be. Yes I had it at my wedding:)
Proposal Poems
Writing a proposal is a time honored way of asking your beloved to marry you. Some people are just shy with words. Poetry is a very romantic way to propose! Here are poems to help.
Will You Marry Me?
Romantic Proposal Poem~by Nicholas Gordon
There is a time when freedom must be bound
By what we freely choose to call our own.
For if not, someday we will have found
That we have made the choice to be alone.
I cannot call my love for you a choice:
I simply made a turn and you were there;
And all I was came singing with one voice
To lift my soul ten feet into the air.
But lightning bolts do not outlast the storm:
The years demand not ecstasy but will.
My love for you must take a different form,
One that lasts a lifetime, deep and still.
And so I make my choice, if you'll agree,
And seek your answer: Will you marry me?
~Used with Permission
Why I Want to Spend the Rest of My Days With You
Romantic Proposal Poem ~by Nicholas Gordon
You have an angel's face, a loving heart,
A peaceful, sunlit smile that lasts forever.
You are the whole, of which I am a part,
Not fully me unless we are together.
I know there is a world beyond our love
In which such thoughts are merely poetry.
But thinking of you now, I can't remove
The glow that shines on you from inside me.
How happy, happy life is when some tender
Feeling like a candle lights one's eyes.
For all my life you'll be my heart's true center,
Striding like a sun across my skies.
~Used with Permission
Will You Marry Me? Card If You Prefer Saying it With Ink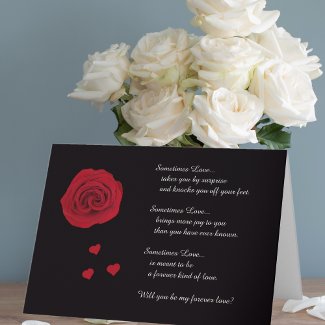 Will You Marry Me? Card by Kathy Henis (affiliate link)
Love Me in the Circle of Your Evening
Romantic Proposal Poem ~by Nicholas Gordon
Love me in the circle of your evening,
And in the morning quiet of your dreams.
Love me underneath ambitious schemes,
And when they slow and time can use some seasoning.
I do not need your highways and your streets
As long as I can be there when you're home.
We both have miles of paradise to roam:
Let me be where your brave heart retreats.
And I will love you in the times of tears,
Of hope and laughter, pain and ecstasy,
And all the days of haunted thoughts,  when we
Can share the undertow of vanished years.
~Used with Permission
Lyrics to My Favorite Song in Moulin Rouge: "Come What May,"
by David Baerwald
Never knew I could feel like this
Like I've never seen the sky before
I want to vanish inside your kiss
Every day i'm loving you more than this
Listen to my heart, can you hear it sing
Telling me to give you everything
Seasons may change, winter to spring
But I love you until the end of time.
Chorus: Come what may Come what may
I will love you until my dying day.
Suddenly the world seems such a perfect place
Suddenly it moves with such a perfect grace
Suddenly my life doesn't seem such a waste
It all revolves around you
And there's no mountain too high
No river too wide
Sing out this song
I'll be there by your side
Storm clouds may gather
And stars may collide
But I love you until the end of time.
~Lyrics from the Liner Notes on the Moulin Rouge Soundtrack
More Love Quotes to use for your written proposal or love notes are here: Love Quotes
May your love last forever!